Cartwheels, back handsprings, handstands, tumbling and balancing are all part of the day-to-day operations of today's busy gymnastics facilities.
One of the fastest-growing segments in terms of athletic participation, today's facilities are getting bigger and often require a great deal of planning to set up but also to keep current with what participants and parents want.
With over 40 years in the business, we have seen the growth in this sector firsthand and have adjusted our product offering accordingly. In addition to growing our product line to meet the demands, we have also turned to research and development to ensure we carry the products that are the safest available.
Padding
Walk into any gymnastics facility and you will be met with hundreds, if not thousands of padded beams, walls, columns, floors and accessories. We proudly offer our wall padding to these types of facilities, which in itself can be complex in nature, depending on the design of the facility. When it comes to additional customization, we handle detailed measurements of corner areas for flooring, and can design completely custom column solutions to ensure the safety of all participants in this fast-paced pastime.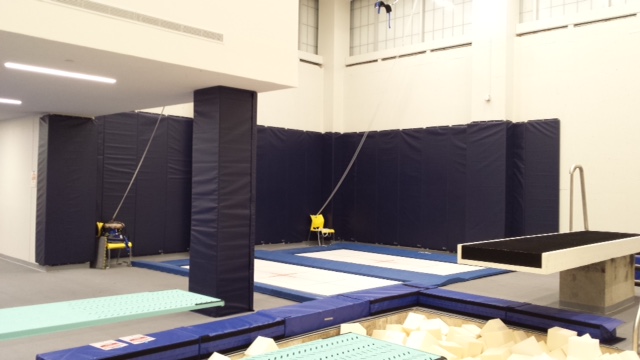 Beyond the customization of padding, we also offer a number of training tools that are of utmost importance for continuing to develop the skills of young gymnasts. We proudly offer training shapes for toddler and youth participants as well as large cylinders such as octagons, roll-over and mailbox shaped trainers.
Seating
As participation numbers continue to rise, so too does the need for auxiliary seating inside gymnastics facilities. During practice sessions, offering parents and family a place to sit is a wonderful way to allow for spectatorship.
Some popular options for these facilities are our portable tip and roll bleachers, our one or two-row hide-a-benches as well as our 3 or 4-row aluminum bleacher options.
Portable options such as our tip and roll models work well for competition use and are easily rolled in and out of storage when needed.
Conclusion
With every facility differing in size, shape and offerings, we proudly offer our unique perspective to each individual project. If you have a unique request or need, do not hesitate to reach out. We are often able to offer on-site consultations to ensure the right solution is designed on a case-by-case basis.