When it comes to martial arts training facilities, no two are exactly the same. While many differ in design, they also differ in use and specialization. When it comes to dedicated martial arts gyms, the choice of padding and mats is usually of the highest grade possible.
On the opposite end of the spectrum, there are a number of multi-use facilities, community centres and the like that also offer martial arts programming and for their uses, a different grade of padding could suit their situation more specifically.
While we certainly have the ability to get highly customized in designing any martial arts-style padding, we traditionally offer two main martial arts padding products for these highly specialized facilities.
Martial Arts Combo Mats
Just as their name suggests, these mats are designed for martial arts use but can also be utilized in a number of other physical education applications. Designed using our 1.25" cross-link and 1" rebond filler, these mats are perfectly suited for multi-use or recreational facilities. Given the nature of their construction, they can also be more economical for those looking for ample protection without stretching the budget.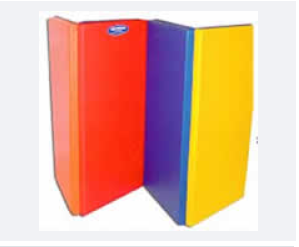 These mats are incredibly durable and are wrapped in our heavy-duty vinyl cover which can be easily cleaned where and whenever required.
Premium Martial Arts Mats
These mats are the choice of dedicated and highly specialized martial arts facilities across North America. Available in a number of custom colour configurations, these mats are constructed using our 2" cross-link filler exclusively and provide superior footing and stability for falls and take-downs.
The Right Sizing
When it comes to martial arts mats, traditionally speaking, there are three sizes that are the most popular here in North America. We typically sell the majority of these mats in the 4'x8', 5'x10' and 6'x12' sizes as they lend themselves perfectly to the needs and available space of most facilities.
Outside of those sizes, our martial arts mats are also available in 4'x4' and 4'x6' sizes and can be customized upon request.