An aquatics centre often proves to be the most immersive and carefree environment in a community. Bringing one to your neighbourhood will definitely prove to be a worthy feat, although the initial planning can be a little challenging.
The same goes if you are planning to renovate an existing aquatics facility or if you're turning a pre-existing building into an aquatics centre for the first time.
Whether you've worked in this field before or not, modern innovations bring about quite a few fresh considerations that you should keep in mind in order to make your aquatics centre the absolute best choice in the area. Here's a quick guide to get you on track.
The Lobby Area
The lobby is the first place guests will see when they enter your facilities. As such, the area needs to be clean, airy, and welcoming. Most aquatic centres - whether aimed at senior activities, rehabilitation, or children's play - generally try to create a bright and calming environment with their colour scheme and layout.
While a rather large area is required to accommodate the check-in desk, pool, and changing rooms, you should try to opt for higher ceilings and open space when possible. Large windows will allow light to pass through and everything should be well-lit for both safety and atmosphere.
When it comes to furnishing your lobby area, most facilities include a small concession area to serve spectators and participants alike, allowing them to grab a water bottle, drink, or a bite to eat.
Be sure that there is seating in the lobby and that it carries on the general aquatics theme. A check-in desk right by the door is a must, along with signage. Restrooms may be located in either changing room or you may have a general-use restroom easily accessible from the lobby.
The Changing Area
Many guests will spend a good deal of time in the changing area as they ready for their swim time and wash-off afterwards.
The first thing to consider when laying out your changing area is to calculate the full capacity of your pool and then get at least that many lockers so that everyone has a place to put their items.
Additionally, if you are going to offer membership or locker rental, you will want to have a few day-use lockers along with plenty of storage lockers that can be rented on a daily, monthly, or annual basis.
When it comes to seating inside change rooms, durable and tough recycled plastic benches are among the top trends in design today. Not only do these benches provide a green alternative to other seating options, they also have the ability to withstand high-humidity environments and will last a lifetime if properly maintained.
The Pool Deck
Around the pool itself, you are going to need to include lots of drainages to ensure no one slips and falls. Warning signs are also a must, but what about seating for those not in the pool?
Bleachers and pool decks need to be designed specifically for your high-humidity environment. Many facility operators make the mistake of opting for a wood or even metal frame bench that will eventually rust or rot with time and constant exposure to the environment.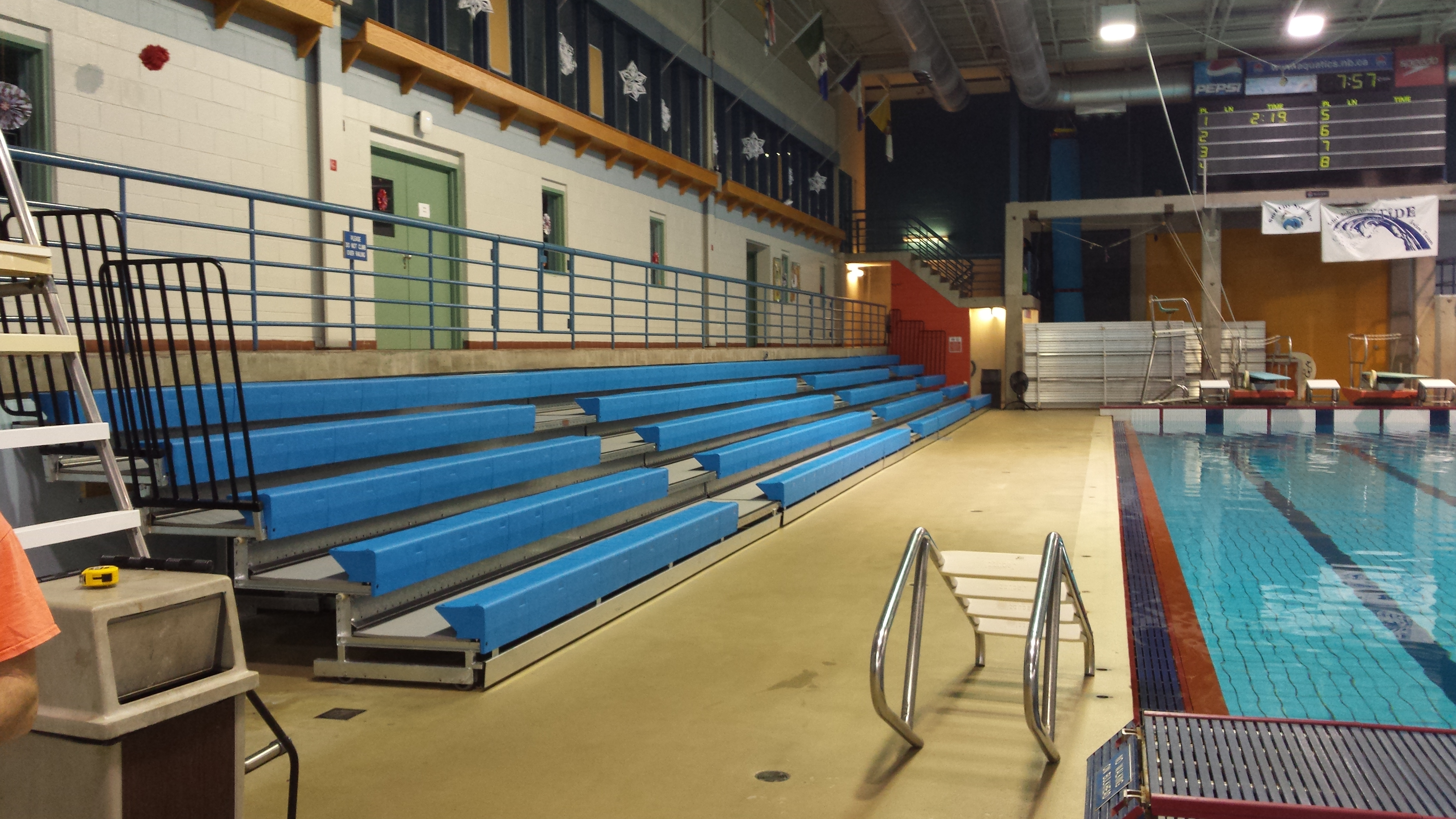 Our line of poolside bleachers alleviate the risk of deterioration as they are designed specifically for these types of environments. Constructed with a completely galvanized understructure, these retractable bleacher systems resist corrosion and come complete with high-density polyethylene contoured seat modules for the ultimate in spectator comfort
Finally, towel hooks and chairs that can be easily moved and re-positioned to accommodate guests are an absolute must. Keeping the needs of prospective users in mind is always the best path to success when planning the design of a new athletic space.