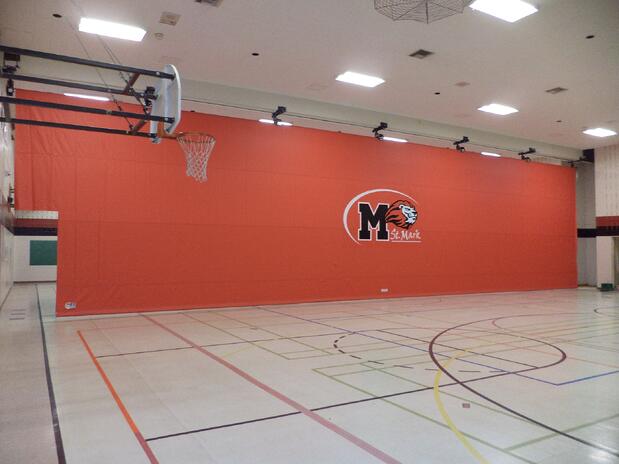 Depending on who you ask, some may tell you that the gymnasium inside an academic institution is the heart of the building. As it is often located centrally inside a building, it naturally and easily exists as the location where gatherings take place.
In addition to assemblies and other events, gymnasiums are the hub for indoor sports, attracting spectators not only from within the school but those from outside as well, such as friends and family.
As athletic programming continues to ramp up across Canada and the United States, these institutions are doing everything they can to remain relevant with regards to the programs they offer, as well as with the equipment located inside their gymnasiums.
As with any high traffic area, the opportunity to more actively brand your organization or team is highly beneficial in the gymnasium of a highly spirited school. With many of the walls already adorned with banners and ribbons from years gone by, today's institutions are starting from the ground up when it comes to branding their beloved schools.
Telescopic Gym Bleachers
Look beyond the flooring and today's retractable bleacher seating structures are often customized in team colours. In addition to having the ability to match school colours, initials can be emblazoned across bleacher seating located within gymnasiums as well. Better yet, many operators are now opting for our GameDay GraFX logo printing program.
GameDay GraFX
Combine a state-of-the-art printing process matched with both new or existing telescopic bleachers and you've got our GameDay GraFX product. We spent years of research, development, and testing, and have since perfected a specialized process that successfully applies digital graphics to HDPE bleacher seats. This proprietary process allows us to offer stunningly beautiful and durable graphics to our growing clientele and give your school or facility another level of school spirit and brand recognition.
Gym Flooring
Whether it be new construction projects or upgraded surface projects, customized gymnasium flooring is now becoming a mainstay for high school athletics across North America.
In addition to high-resolution logos at centre court, gym floors now also feature custom-coloured borders, slogans, team chants and associated hashtags on the flooring to bring the spectator experience to another level.
Gym Divider Curtains
Depending on the sport or activity, a massive gym divider curtain may also be in use and in these cases, these billboard-like structures are also home to a fair amount of branding. Again, the opportunity for custom colours and screen-printed logos add another level of both professionalism and extreme school spirit.
Advertising
In addition to the above, advertising has also become a recent trend in gymnasiums across America. As new and interactive score boards and scoring tables are being introduced, they now have the ability to provide advertising often used to continually fundraise for the school's athletic programming.