Athletic programming is a crowded space. With more participants perhaps than ever before, facility owners and operators are always scrambling to not only offer cutting-edge equipment but to also ensure every inch of space is properly utilized.
When it comes to gymnasium equipment, the list is long and highly customized. With expansions in program offerings in educational and community-based facilities, the need for additional equipment is seemingly never ending.
For operators of busy facilities, the need for speed and automation is growing with each day that passes. When it comes to educational facilities such as schools, colleges and universities, the gymnasium is typically a heavily scheduled location, catering to a variety of programming and athletic competition.
As such, our industry is turning to technology to get more done in a shorter period of time for those constantly under tight timelines and constraints. With this in mind, we present a list of electrically automated equipment built specifically for these types of facilities and how they can help overall efficiency in these busy locations.
Gym Dividers
Busy locations often call for a shared space in the gymnasium. Whether it be for a volleyball tournament, class scheduling or practices, the need to quickly divide an open gymnasium is now more apparent than ever.
In addition to completely customized designs to fit any ceiling or truss system, our gym divider curtains are powered for quick turnover rates while keeping safety top of mind. While most of the motors that come standard on our curtains offer more than enough power to get the job done, we have retrofitted systems to accommodate two or more motors to get the job done quicker or simply to carry a larger-sized curtain in a shorter period of time.
Basketball Systems
Look up and you are likely to see a number of basketball nets in any given gymnasium across the United States and Canada. Varying in size and configuration, when it comes to large, ceiling-suspended units, they are all often powered by electric motors to move them up and out of the way as programming needs to change on the fly.
Additionally, these systems are all outfitted with Aut-O-Loc safety systems in the event of a mechanical failure, again, keeping safety top of mind.
Telescopic Bleachers
Just as the name suggests, these popular gym bleachers retract and expand on command in either a manual or electrical configuration. Once again, where speed is needed or perhaps human resources are lacking (manual configurations often require two individuals), electrically powered gym bleachers are among the most popular choice.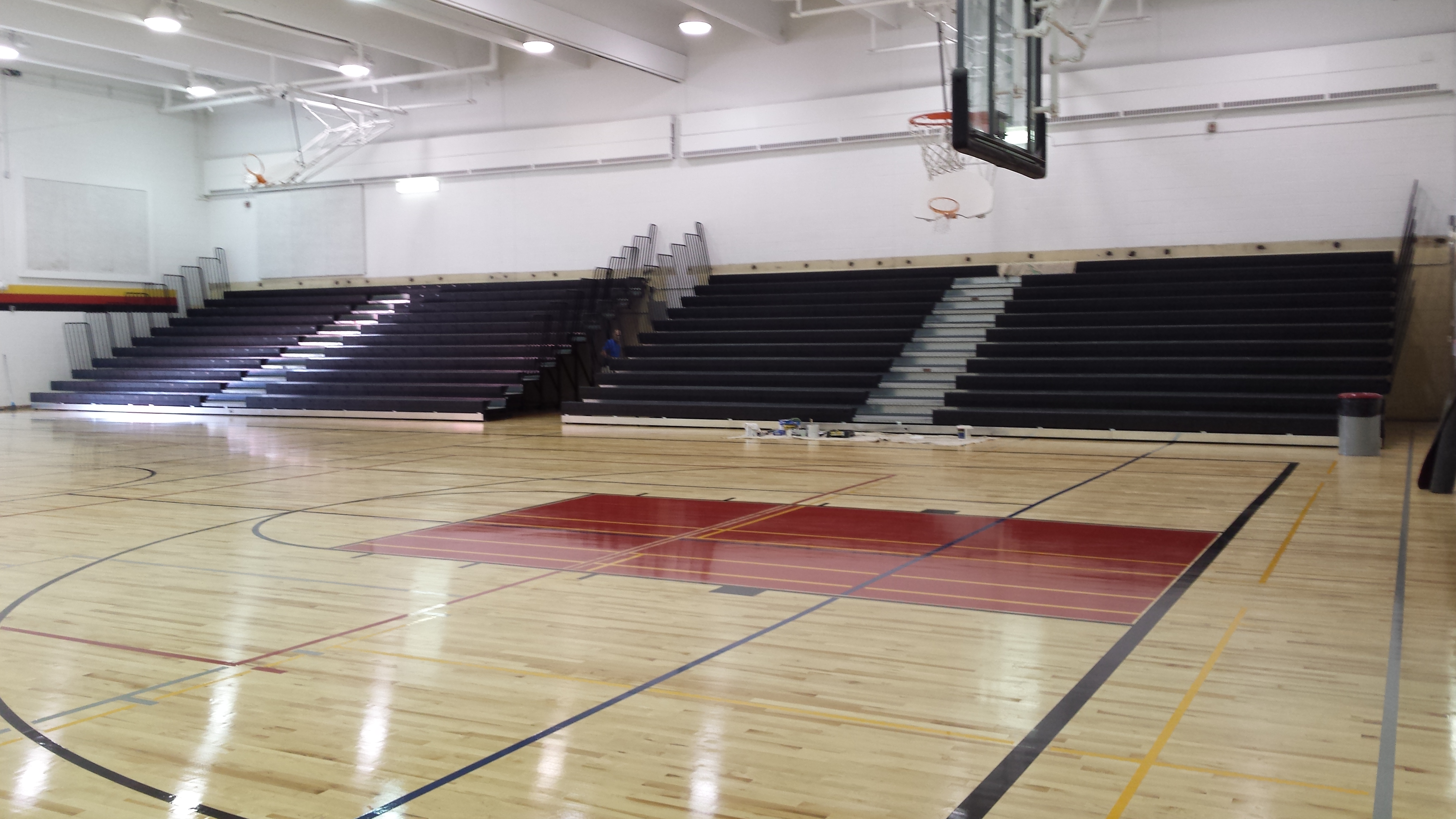 Closing into a low profile against an existing wall, these seating systems are fantastic for sporting events but also allow for extra space for practices or intramural play.
Volleyball Systems
That's right, electrically powered volleyball systems. While the majority of the systems on the market today require manual operation to set them up, even with the convenience of ground sleeves, there is one system that can put all the others to shame.
The SkyMaster One-Court volleyball system is ceiling-suspended and powered by a dual-drive electric hoist that either lowers or raises the entire system up into the ceiling above. When it comes to cost savings based on time, there is not another indoor volleyball system on the market today that can match the speed and technology of the SkyMaster.